Oh my goodness it's Christmas Eve!! Can you believe it?! I am so happy as for me, Christmas really starts on Christmas Eve. It's tradition for my family to put up the Christmas decorations on Christmas Eve, so we spend the day cleaning the house & then making it beautiful with all sorts of decorations! Then another tradition we have is to open one present on the evening, a few on Christmas Day itself, and then one every day for each of the 12 days of Christmas. It's a bit unusual but I love it.
Speaking of presents, I took part in two Secret Santas this year, and here's what I got (umm nope I didn't manage to wait until Christmas Day to open my pressies, woops!)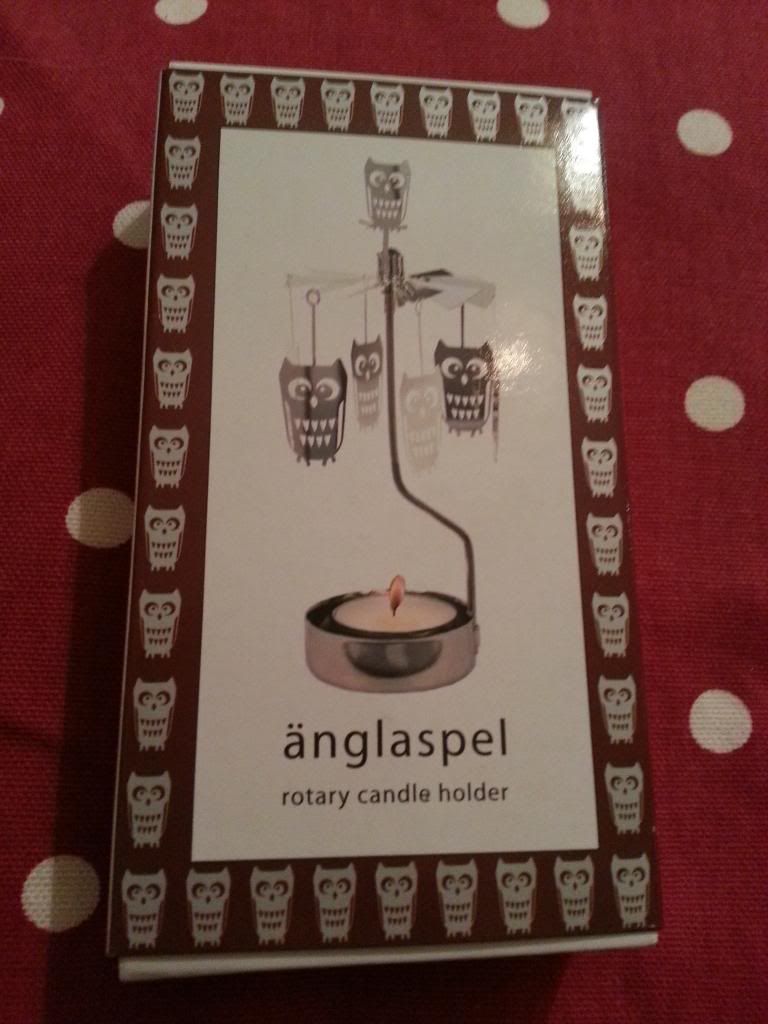 This cute owl candle holder was from my work Secret Santa, for which the budget was £5.
I am super happy with this gift, it's perfect for me! I am obsessed with candles at the moment & this is a little bit quirky. The photograph above shows the candle lit, with the little owls spinning around because of the heat. I know this was purchased from Oliver Bonas if you like the look of it for yourself!
I also took part in a Bloggers' Secret Santa, run by the lovely Georgina and Laura. I was lucky enough to draw Emma as my partner, who's wonderful blog is Glossy Boutique. The budget was £15, and look what beautiful goodies I got!
I was really pleased to unwrap this Soap and Glory Hand Maid Gel, as I am a mahoosive fan of the brand and I've actually been wanting to try this for a while! Living in London and coming into contact with icky Underground handrails on a daily basis means hand hygiene is a big priority for me!
Burt's Bees is a brand I've been wanting to try for a long time, but for whatever reason never got around to it! The gorgeous Emma bought me this lip balm which smells lush and is made from natural ingredients, which is just up my street.
Ohhhh a glitter nail varnish! Emma clearly did her homework! If you've read Bee's Knees before you'll know that I have a bit of an obsession with sparkly nails, and this gold glitter from No7 is perfect! I can't wait to try it.
And last but certainly not least is this Lasting Finish Kate Moss matte lipstick.
I have seen so many bloggers raving about this lipstick, I was over the moon when I saw Emma had picked it for me!

And it's the shade I've seen the most hype about - shade 107.
Here's the lipstick swatched. It's a lush deep red almost vampish colour, and I adore it! I love love love a good red lipstick, and this an amazing red lipstick!
Apologies for the lighting in this pic, but here's the lipstick on my lips. I LOVE it! I'm so happy with all my wonderful presents from Emma, she's such a sweetie and managed to get me some real treats - THANK YOU!
Have you done Secret Santa this year? What did you receive?