I bought two
MUA
Lip Booms quite a while back now, but it was during my blogging hiatus so I'm only posting about them now! A bit late for the bandwagon but nevermind! If you're a long time reader of
Bee's Knees
you'll know that I'm a big fan of
MUA
's lipstick range (read my review
HERE
), and so when I heard about the Lip Booms I ordered them as soon as they were available direct from the
MUA website
.
Going by the images available online at the time, I opted for 'Bring It' and 'It's a Situation', as I am a big fan of statement lips and I'm always partial to a lovely red lipstick!
The design of the MUA Lip Booms is quite unique and unusual - there is a lipstick on one end of the product and a lip gloss on the other, as shown above.
This is 'Bring It' swatched. This is my favourite of the two shades as I think the lipstick is quite versatile and could easily be worn during the day or night.
The whole concept of the Lip Boom is to create a high impact, glossy and glamorous lip - and I think it works! You apply the lipstick as usual, then apply the glittery gloss over the top. The effect is shown at the top of the photo - with the gloss and lipstick shown individually below. The clever and economical thing about Lip Booms is that you can also use the lipstick or lip gloss individually, so essentially for the £3 price tag you are getting 3 products or lip looks.
This to me seems excellent value for money!
Here's 'It's a Situation' swatched. I was a little disappointed by this shade as it's a lot darker in real life than I was expecting, and more of a dark red rather than a plummy pink which was what I hoped for. That said, I think the lipstick and gloss combined looks great for this shade, and would be ideal for a 'big' night out, like a Christmas party or New Year's Eve.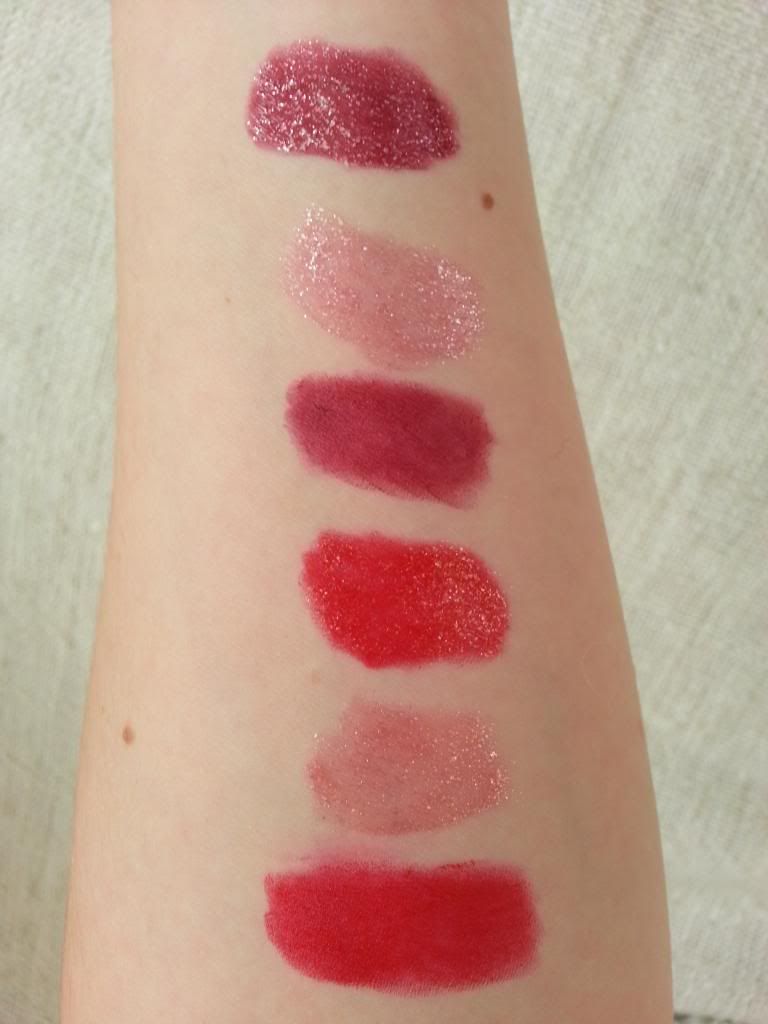 Here's all the swatches together, so you can see the difference in colour. 'It's a Situation' is at the top and 'Bring It' is at the bottom. This makes it obvious to me that 'Bring It' is more my kind of colour and I'm likely to get a lot more wear out of that shade than 'It's a Situation'.
As for reviewing the product itself, I really like the lipsticks as they are identical to the other MUA lipsticks I've tried and loved. The glosses are good, but I don't really wear lip gloss on its own and so I'm not too hot on whether these are actually great compared to what's available elsewhere.
What I
do
like about the Lip Booms is the concept, which is quite unique and makes this a very good value product. £3 for a lipstick alone is a fab price, but for a lipstick that you can also wear as a high impact statement lip for parties makes this product a must-have for the upcoming party season. I think I'll get lots of wear out of my Lip Booms, but mainly as lipsticks and occasionally with the gloss over the top.
Do you own any MUA Lip Booms? What do you think of them?