Today I am heading off to Sherwood Forest in Nottinghamshire to spend New Year with my boyfriend. After a series of disappointing New Years events over recent years, we decided to get away from it all and spend some quality time together. This is especially special for us as we are long distance. Our little log cabin will have a real wood fire - I can't wait! Expect photos on my Twitter account (@ElspethDaisy) and a follow up post with some pretty pictures. I've scheduled some posts in my absence, and first up is Fabulous Nails - Lush Lacquer!
After I saw Lily's post on Lush Lacquer towards the end of last year, I immediately ordered myself 5 little pots! The wonderful ladies at Lush Lacquer make their very unique and special nail polishes by hand and have lots of gorgeous colour/glitter combinations that you'd be hard pushed to find elsewhere!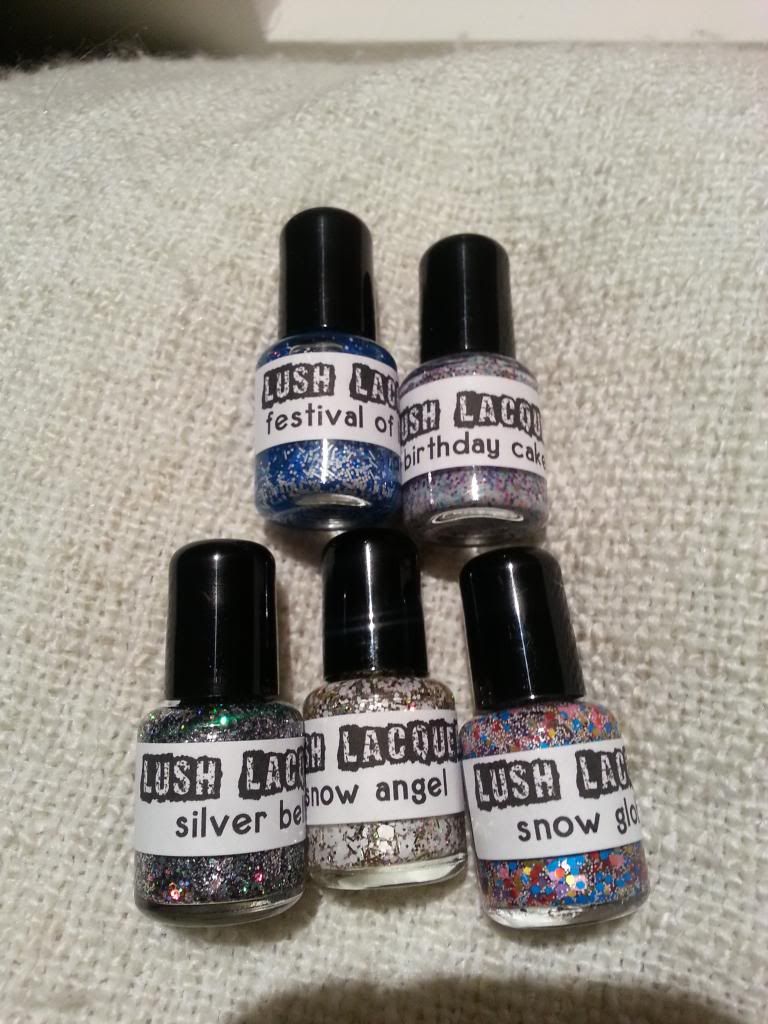 The shades I bought were Festival of Lights, Birthday Cake, Silver Bells, Snow Angel and Snow Globe!
I decided to try Snow Globe first, as with lots of circle shaped blue, green, pink, red and purple pieces and white tiny strands, it is totally unlike anything else I've ever seen before!
I decided to use this Natural Collection shimmery cream shade as a base coat, in shade 'Sugar Mouse' (how cute is this name?!)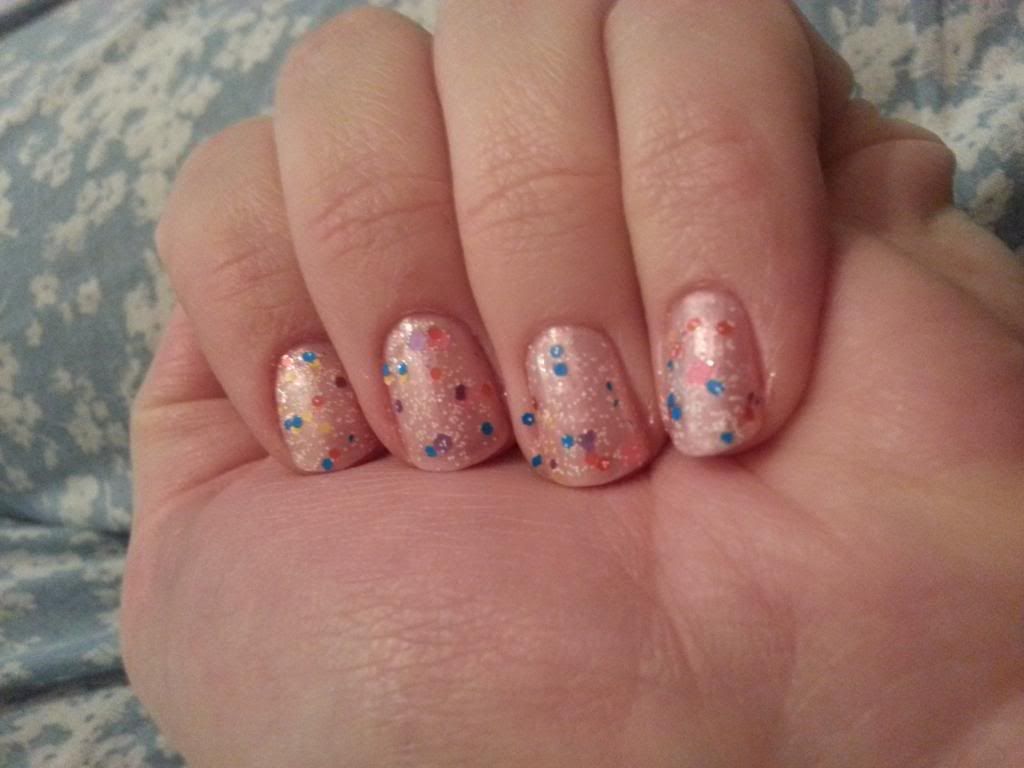 Here's the finished look! I am really pleased with my nails, they catch my attention constantly as I can't get over how unique they look! My boyfriend was a little less than impressed, he said it looked like I'd been crafting and forgotten to wash my hands (sadface!) but I really love this! The only downside (which in my opinion, is a major downside!) is that these particles are even more difficult to remove than glitter polishes (and if you're a long time follower of my blog you'll know how much I hate removing glitter polishes!) It took around 15 minutes just to get it off! But a nice special look.
Lush Lacquer polishes can be purchased HERE from their Etsy shop. I bought 5 mini bottles for £15.17 plus P&P (which is a lot as they need to come all the way from America), but they can also be purchased individually for £5.59 each. The wait for them to be created and posted over to me was a long one, but worthwhile in the end I think! I've spotted some more colours I'd like but I don't want to order any more until I've tried all the ones I've already got first.
Have you heard of Lush Lacquer before? Are you tempted to try one, two or five?