I realised a little while ago that I haven't posted much on one of my all time favourite make up brands, Lily Lolo. I discovered LL about three years ago now when I was searching for the perfect foundation to suit my pale skin. I found it (watch this space for a review) and then discovered a whole host of other magical make up products too!
LL packaging is simple, chic and practical. I love their branding, its classic and clean. The blushers come in these small round pots. I own Beach Babe (my first LL blusher - I've had it for 2.5 years now) and recently invested in Ooh La La.
LL blushes come in post of 3.5g and for this you pay £7.29. The price has increased a little since I first started wearing this brand, but it's still very reasonable. This is Beach Babe.
LL is a mineral make up brand, and the blush comes in a pot divided in the middle - one side has holes to allow the product out but the other does not, to make sure you don't end up with absolutely loads of product rocking around in the tub. I find that I end up with quite a lot anyway due to travelling with this in my bag, as you can see.
Beach Babe is my favourite blusher of all time. It's a very subtle peach blush that suits my pale complexion perfectly. The colour is buildable, which makes this a versatile product, but I generally don't use much - just enough to give me a flush of colour and brighten up my cheeks.
Ooh La La is a recent purchase - I decided to try a pink blush and apparently this is LL's most popular shade!
This is a much bolder and more pigmented blush than Beach Babe, as you can see in the swatch below. I was a little nervous about using this on my face as I prefer understated make up looks and I don't feel very comfortable with a lot of colour on my cheeks. But that's why this mineral blush is perfect - if you only load a tiny amount onto your brush you can get the slightest hint of colour, which is absolutely beautiful at this time of year. Ooh La La gives you that much sought after 'just pinched' cheek look. I can see why this is a popular shade!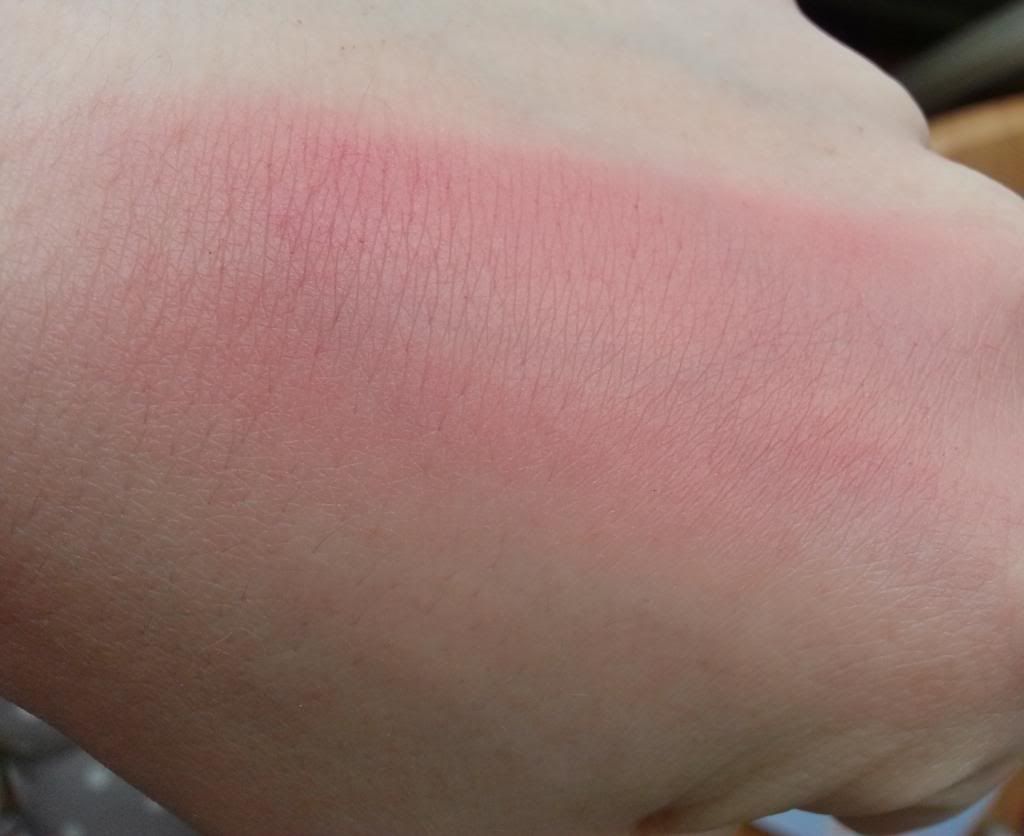 And now for some more general comments about LL and their blushers - yes, the product is a powder, and no that isn't to everyone's tastes. For me personally it is ideal as I hate the feel of liquid or creams in large quantities on my face. Mineral make up is much better for your skin and I did notice a huge improvement in the appearance of my skin and a reduction in break outs when I started using LL make up in general.
The blusher is very soft on the skin and feels just divine. I like to layer this over S&G Glow All Out to achieve that perfect balance of highlighter and colour on my face.
As I said, these sell for £7.29 for 3.5g but bear in mind that this amount of product will last you a long time, my Beach Babe is almost three years old and, as you can see from the photos, still going strong! You can buy LL products HERE.
Have you tried Lily Lolo yet? What is your favourite product?
Don't forget my giveaway ends tonight and you can enter HERE!