WOW this post has been waiting a long time to get written! I acquired the MUA Artiste Collection palette a good few months ago - possibly as far back as pre-Christmas but for whatever reason I haven't gotten around to reviewing it until now! It was a free gift with an order I made, but retails for £6.
This is the first palette I've owned that isn't just eyeshadows - the Artiste Collection features 6 'merged' eyeshadows, 2 blushes, 1 bronzer and 1 highlighter. When I first received it I was quite excited at the prospect of one palette that would cover 4 different needs - I thought I would be able to cut out a lot of my make up when packing for visits home to Leeds or visiting friends.
The names of the eyeshadows L>R are:
Pistachio Mocha Ice Grape Chocolate Cookie
These are the eyeshadows swatched L>R in the same order listed above. It was hard to get a photograph which showed Pistachio and Mocha clearly as they are by far the lightest shades. On the lid, Pistachio is a creamy white, whereas Mocha is a beautiful cappuchino colour.
Here are the eyeshadows swatched in the opposite order to the photo above (not very helpful, sorry!) I tend to wear Pistachio with black eyeliner as it makes the colour stand out, whereas Mocha is great for neutral days when I'm wearing a thicker brown eyeliner. I haven't worn the blue (Ice) yet as I don't really wear colour on my eyes.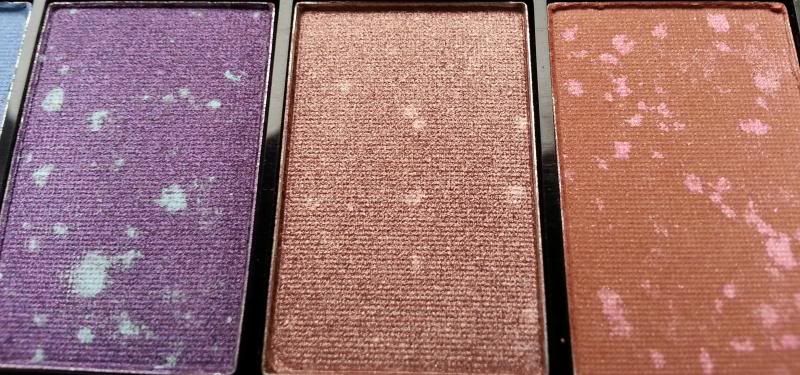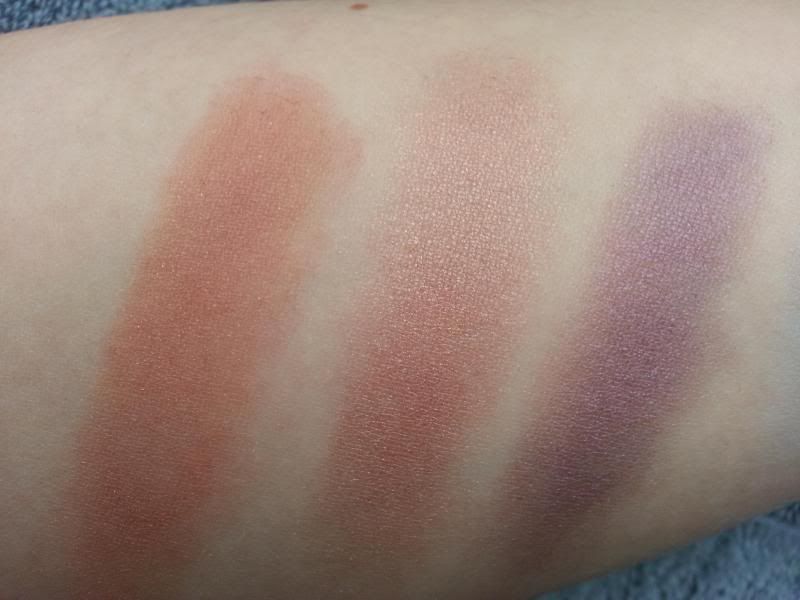 Again, these are swatched in the opposite direction as shown above. I haven't tried Grape yet, but Chocolate (middle) is a fantastic shimmer brown which is useful in many different ways and Cookie (far left) is a nice warm peachy brown and excellent for a subtle smokey eye.
The quality of MUA eyeshadows is absolutely fantastic, especially in comparison to similar priced drugstore brands. I already own the Undressed eyeshadow palette by MUA (you can read my review HERE) and love it. The quality is consistently good with excellent colour payoff, fantastic lasting power and they don't crease! What more could you want?!
Here are the blushes Pink Sparkle and Primrose top > bottom. I didn't use these for a while after getting the palette, but once I did I fell in love! They're both really nice subtle colours which add a bit of flush to my especially pasty winter face! The lasting power is good, but not excellent - i.e. after 12-14 hours' wear there isn't much left. However having them within the palette is good for travel and I do like the colours.

Here is the bronzer and the highligher swatched. I did try to use this bronzer as a contour colour but as you can probably tell, it is way too dark for me! Even with a light hand and a soft brush it just makes my skin look bruised - not quite the look I was going for! The highlighter on the other hand is a stunning shimmer white shade and I absolutely adore it. It's one of the only pressed powder highlighters I own and I really love it and have used it a lot. It's easy to apply as a highlight all over your face but I use it most on my cheekbones and inner eye. The big downside is the total lack of longevity - I think this lasts a few hours maximum which is so disappointing as I would use it everyday it it lasted a bit longer.
Overall for £6 I think this is a good palette to have in your make up collection, especially if like me you're often visiting friends and family and need a compact everyday make up item to help you pack light! I do use a couple of the eyeshadows on a daily basis and the quality of them is outstanding. The blushers are also good, and I love the highlighter although the lack of longevity of these has, in my opinion, let the palette down on the whole. It would be brilliant if the bronzer was the right shade for my skin tone, but you can't win them all - I reckon if you have a warmer skintone you might be able to use that too.
You can buy the Artiste Palette from MUA online HERE, or at Superdrug instore or online HERE (free delivery until 2 April!).
Do you own this palette? What do you think of it?