Another little haul post from my spends last week.. I am now back on the wagon after breaking my spending ban. I didn't go crazy, I only bought a Revlon foundation, some Models Own polishes (which were paid for with Boots points so I'm not sure they count), a couple of cheap bits from H&M and the B. brand haul I'm posting about today. In total I don't think I spent more than £40, so I can definitely live with myself, and I'm committed to lasting for the rest of my spending ban so this will hopefully be the last haul post for a while..
I expect by now you will have heard of the new brand launched by Superdrug - B. I only heard about this brand after I'd already purchased one of their make up products - the eyebrow kit which I reviewed earlier this week. But after reading up on it I was really keen to try some pieces, especially from the cruelty-free skincare range! The Micellar Water was top of my wishlist, and because they had an free gift with purchase I couldn't resist picking up the B. Clean Melting Gel Cleanser too!
I like the packaging of these products - it's simple, minimalistic and clean, which is spot on for skincare. Although these are around the average price point for drugstore skincare I much prefer the way they are marketed in comparison to other similarly priced products - for example I got the pretty cardboard bag pictured above when I made my purchase which makes the brand feel a little more high end.I think Superdrug are marketing this new brand to a slightly older age range with more discerning tastes, which is reflected in their branding.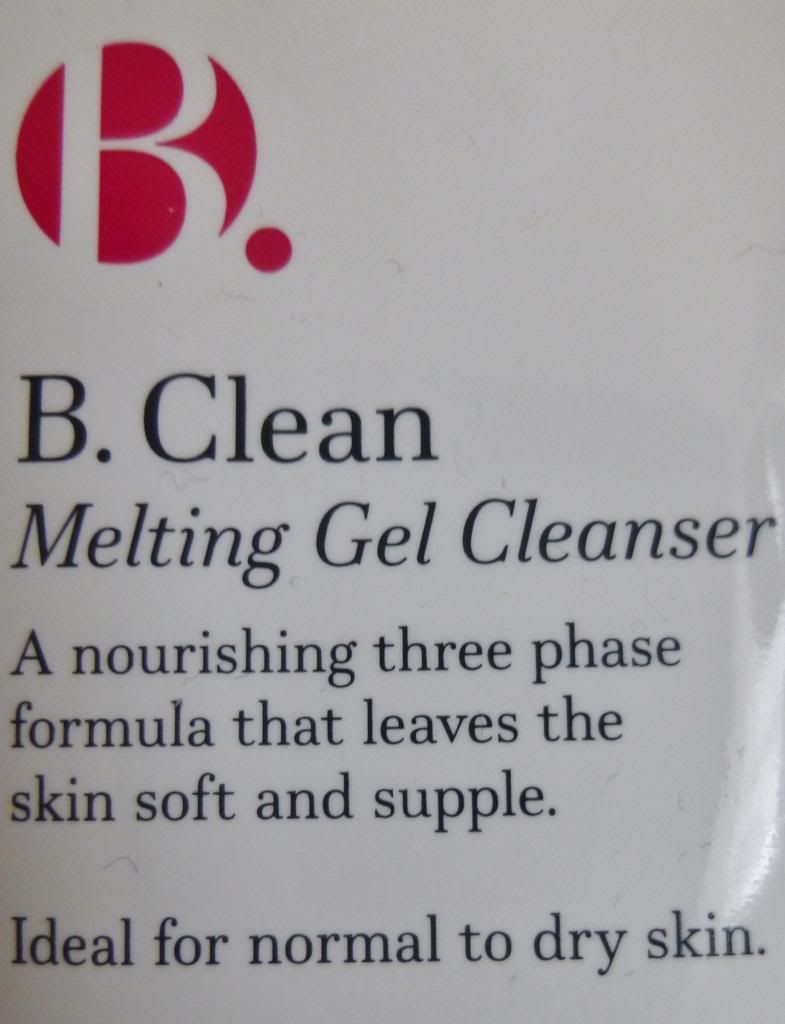 I picked up the Micellar Water and the Melting Gel Cleanser, £4.99 and £6.99 respectively. I am really intrigued to try both of these products as they seem unlike anything I've used before. The melting gel cleanser sounds especially interesting! You can buy these instore at Superdrug or online HERE and HERE. I will be trying these soon and posting reviews in a couple of weeks' time.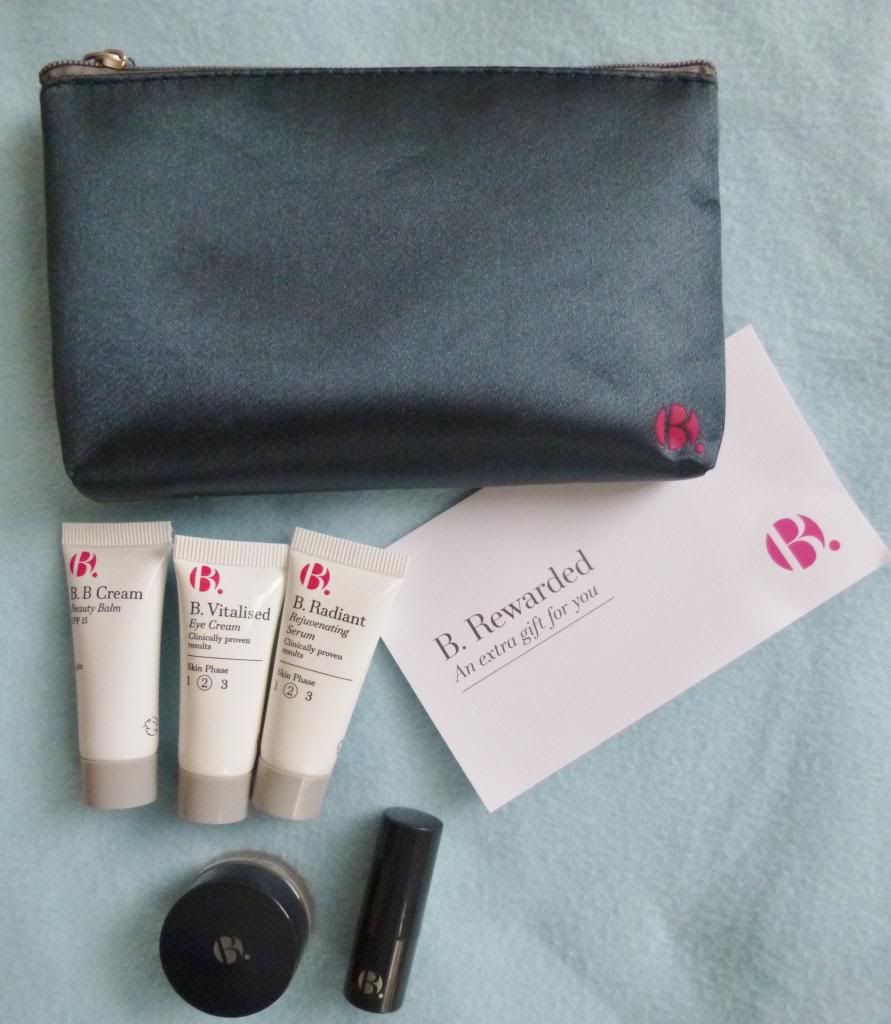 Since I spent more than £10 on the B. range I got a free gift with my purchase - this 'Introduction to B.' kit which sounded really good, on paper. When I got this home and opened it up I was quite disappointed to find only one full sized product (the eyeshadow, I think is full sized) and then four other mini samples. You get a mini (and I mean tiny) B. B Cream (Light), B. Vitalised Eye Cream, B. Radiant Rejuvenating Serum, and the world's smallest lipstick (see more below). You also get a voucher for £2 off the range when you spend more than £10 before the middle of April.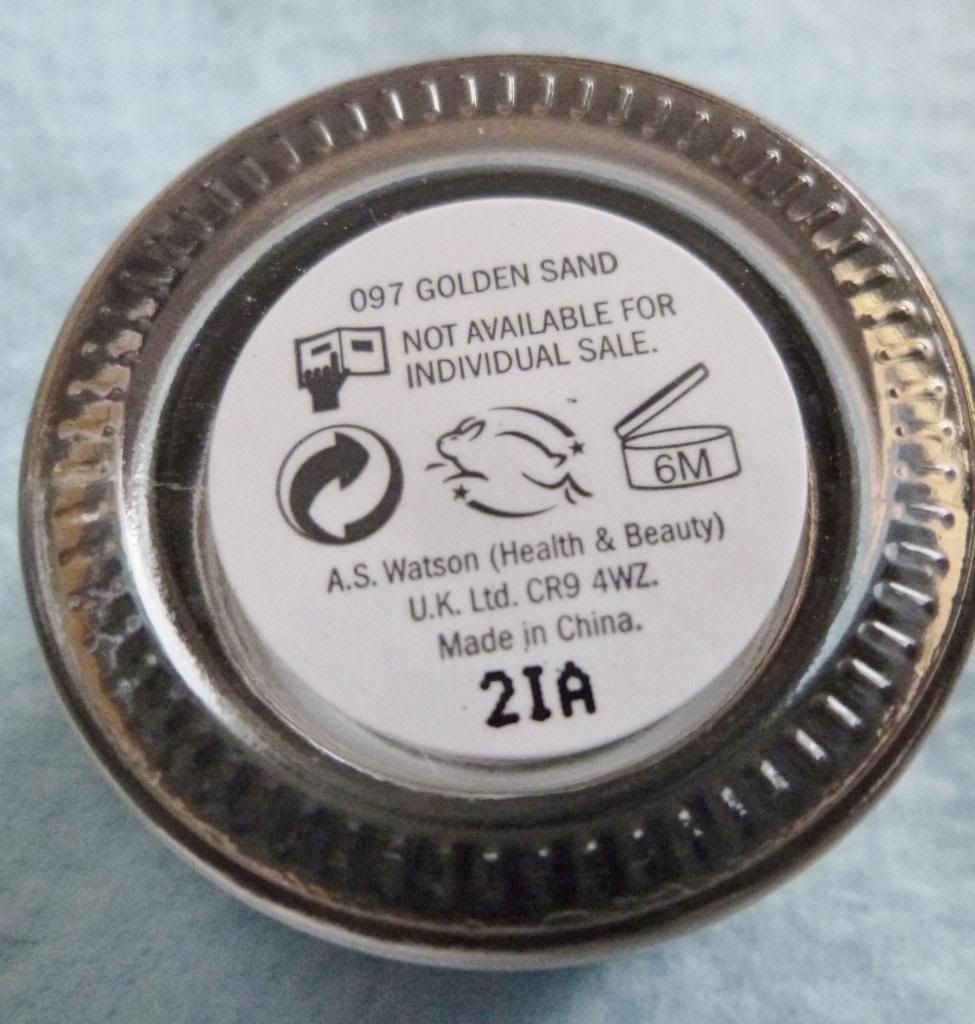 This is the B. Stunning Eye Shimmer in shade Golden Sand. I am not too keen on this colour, I'm not sure if I've actually worn gold eye shadow in the past 5 years ever but I guess it's worth a try! I might use this on nights out, and will be testing it out to review soon. I was happy with the size of this product at least.
And here is the world's smallest lipstick, the B. Rich Lipstick in Rose Quartz. I honest could not believe my eyes when I pulled this out - I've never seen anything so small! It is a bit of a joke really, and I would have much preferred a full sized lipstick as this is so small I didn't dare to swatch it just for the purposes of this post because I would have used too much of the product up! I guess looking at it as a whole the free gift is a nice gesture, but I can't help being disappointed by the size of the products. I'm never going to use the make up bag so it's a bit pointless.
Overall I'm excited to try these unique (for their price range) skincare products, and I will try out everything I received free and report back in due course. I really wouldn't recommend buying from the B. range with the sole goal of receiving the free gift as, in my opinion, unless you're mad keen on gold eyeshadow it's really not worth it.
Have you tried anything from the B. range at Superdrug yet? How have you found it?
ps. don't forget to enter my giveaway HERE if you haven't already, it ends on Sunday at midnight!