Happy Wednesday everyone! I have a new kind of post for you today -
I've never done an empties post before, but new(ish) year means new ideas for
Bee's Knees
! Here are the products I've used up recently.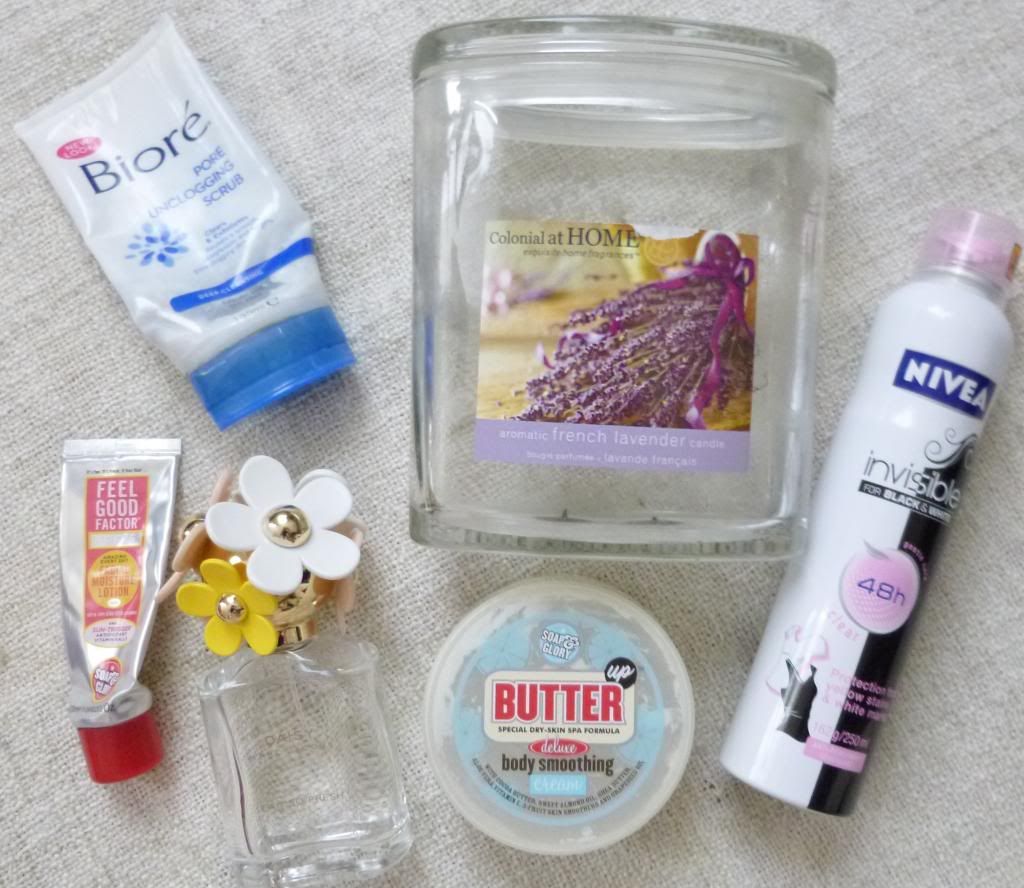 I finished up my Biore Pore Unclogging Scrub which I don't think I will be repurchasing. You can read my review of it HERE. I only bought it originally because it was on offer. Although it does give my skin a lovely tingly feeling I have moved back to a Good Things scrub which I prefer.
This Colonial Home candle was mentioned in December's post on Christmas Candles on the Cheap. I've been burning this at least once a week for two years and it's only just finished - incredible value! My boyfriend bought me a set of two Yankee candles for Christmas so I will be using those up before repurchasing from this brand.
My Soap & Glory Feel Good Factor moisturiser will definitely be repurchased. I posted a review of it HERE - it's perfect for wearing under make up and sinks into the skin beautifully. I'm trying to use up a Liz Earle sample I have but then I'll be going back to S&G.
I can't believe I never posted about Marc Jacobs Daisy Eau So Fresh. I love this perfume, it's fun, floral and a lighter version than Daisy. I would repurchase this in a heartbeat but I became a little bored of it and my Mum bought me Dot for my birthday instead.
I've had this S&G Butter Up body smoothing cream for ages - I think I got it for Christmas in a set a while back but I've only just used it up! Not an amazing, ground-shaking body moisturiser but it smelt nice and did the job. I wouldn't repurchase (& I think this has been discontinued anyway) - I have a million and one body moisturisers to get through!
Finally, an honourable mention to this Nivea 'Invisible' deoderant, which is amazing. It really is invisible & doesn't mark white or black clothes. I have already repurchased this and would recommend it to anyone.
ps. If you haven't entered my giveaway yet, you can do so HERE