Happy Sunday evening everyone! I hope you're all having a lovely weekend. You might have read my rave review of the NUXE Reve de Miel Ultra-Nourishing Lip Balm a month or so ago. I was really impressed with this allegedly HG lip product, and I've been using it religiously ever since! However the 'original' product comes in a gorgeous glass jar, which is somewhat impractical for travelling around with. I decided to try out the same product but in stick form to see if I would love it as much, and here's my review!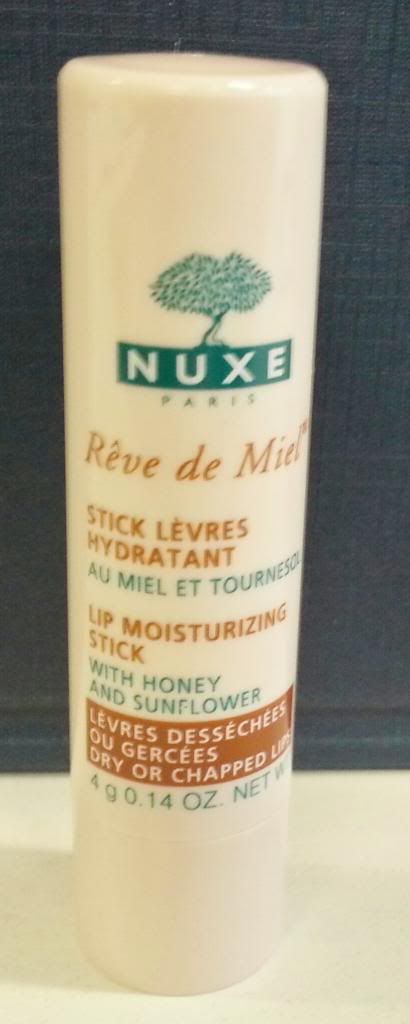 Although it's exactly the same product, I think the stick version feels a lot less thick and luxurious on the lip. I'm almost certain that the formula must have been changed if only just a little to make the balm more 'solid' for the stick, and so it doesn't apply to the lips as smoothly.
Another thing worth mentioning is that I found I had to reapply this more often than when I use the pot. I said in my original review that reduced reapplications was one of the big bonuses of this product for me, so I was disappointed that the stick version seems less effective. That said, when compared to other 'stick-form' lip balms this is still a definite winner for me, and I will definitely repurchase so I have one handy in my bag for lip emergencies!
If you like the sound of this product, it retails for £5.50 and you can pick it up in all sorts of good beauty stores, including Feel Unique HERE. Alternatively, if you'd like to win it for FREE make sure you enter my giveaway for the chance to win HERE!