Happy Tuesday evening everyone! Today has been a bit of a drag as it's technically my 'Monday' (I had yesterday off work to laze around with my boy and recover from my birthday weekend!) I thought blogging about my favourite sale haul might cheer me up - so here's a post on my recent purchases from Urban Outfitters. I don't shop there often, primarily because I find it slightly too expensive, but I do love their homewares and gift section. If ever I'm stuck for what to buy someone as a gift I head to Urban Outfitters, and although I come out newly poor, I'm never empty handed!
In December I decided I wanted to invest in some little bits and pieces to tidy up my usually clutter-ful bedside table. I found literally dozens of things I wanted on the Urban Outfitters site, but luckily managed to put it to the back of my mind and avoid actually buying anything until the sales came around this month! I've bought lots of beautiful things but they were reduced so much I can completely justify it to myself - win!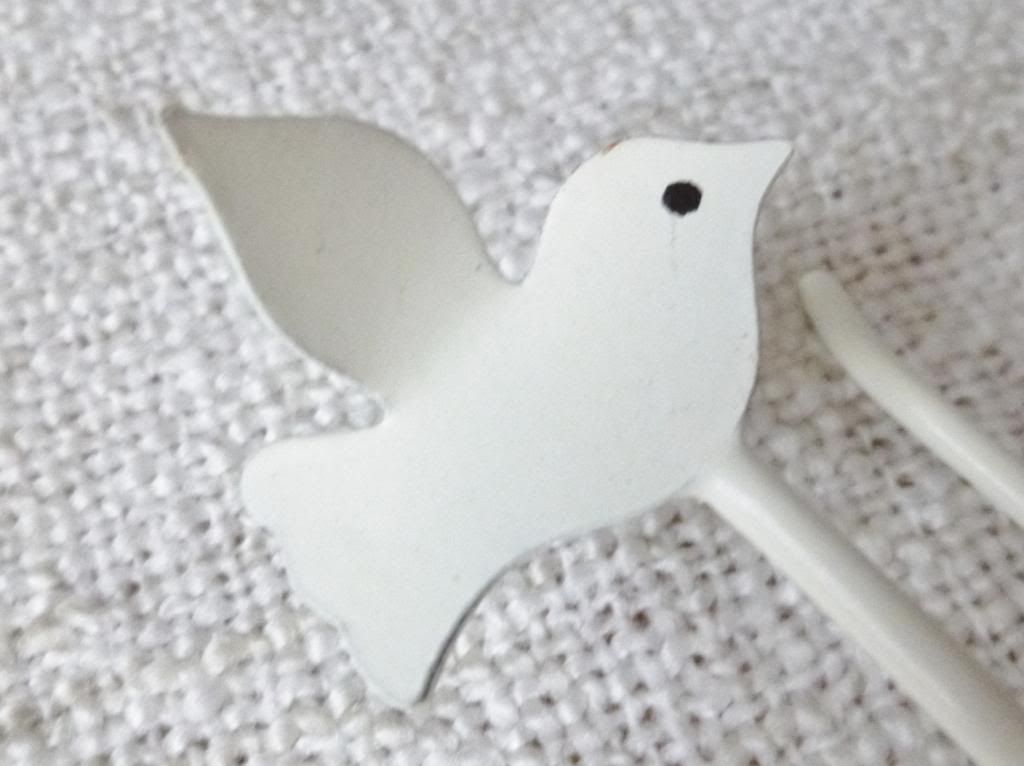 First up is this bea-u-tiful cream bird jewelry tree - I really really wanted to get this when it was full price (£18), but managed to nab it in the sales for a ridiculous £5. That's right, FIVE POUNDS. It's stunning and fits in perfectly with my cream metal bedside lamp, and my bed frame! Unfortunately this is sold out online but they do have the metal and blue one full price here.
I wear a few rings and my watch every single day, which often means they're tossed onto my bedside table before I clamber into bed sleepily at night, and they usually fall on the floor. In a house with a kitty cat that loves nothing more than hiding/eating/playing with everything she finds on the floor, this isn't a sustainable way for me to live! So I set out to find the prettiest catchall I could, and this ceramic one that looks like an adorable mini bird bath, fit the bill perfectly. Again a bargain buy, this was originally £12 but reduced to £5 in the sale. Click!
Another storage idea that ended up a total bargain, this small wooden box was a bit of an impulse addition to my online shopping bag, but I am thoroughly pleased that I bought it! It's really well made and the design on the top is actually a ceramic tile - which makes me very happy seeing as I paid a measly £5 for this (reduced down from £12). I use this to store all my little necessary bits that are otherwise unsightly, for example eye cream and eye drops. It's perfect and pretty and I love it! Click!
I have always bought my photo frames from Urban Outfitters - I already have 3 or 4 from there and I find them to be cute, quirky but still affordable. I came across this rose design one in the online sale and added it to my basket as it was only £5 (reduced from £10) and I can always use a pretty new frame! This is actually ceramic which is incredible value for money as I'd expected it to be plastic. Unfortunately this is also sold out online, but they do have a similar white mirror here.
I have no idea why I bought this bunting, I thought it was pretty and would fit in nicely with my random, shabby chic home! What I didn't realise was how much bunting there is here - when I got it home I realised I had no idea where I could put it! As a result it's now wrapped around the bottom of my bed which looks okay I guess, but I'm not convinced that's where it's destined to live! This was £5 down from £16 but is now sold out online. There are all kinds of bunting available here though.
Finally, this Nail Art Set was definitely an impulse buy, and maybe one that I'm now regretting. Can you believe this started out at £14!? I would have never paid that much! I actually bought it for £5 in the sale. It's two nail art pens (gold and red) with brushes and dotting tools attached, and also some gems.. I'm not sure when I am going to use this, and I wish I had saved my pennies and invested in something else because £5 is a lot in the land of nail art and polishes, and I could have definitely spent it on something that I'm more likely to use. You can check out some other sets here but unfortunately this is now also sold out.
Apologies for the lack of proper links but I think I got in and bought some of this stuff right before it sold out - lucky me! I hope you liked this post, I know it's not fashion or beauty but I am hoping to take Bee's Knees in a slightly new direction this year and feature a few lifestyle-themed posts, so I hope you enjoyed it!