NUXE Reve de Miel Baume Levres Ultra-Nourrissant Ultra-Nourishing Lip Balm - bit of a mouthful isn't it? I came across this when Googling around for a HG lip balm as my lips are in the worst condition at the moment! Probably a result of it being winter and me being a fan of cheap lipstick! Anyway, I bought this from feel unique for £9.50 - much more than I would usually pay for a lip balm, so I had high hopes for how it might change my life (an exaggeration perhaps??)..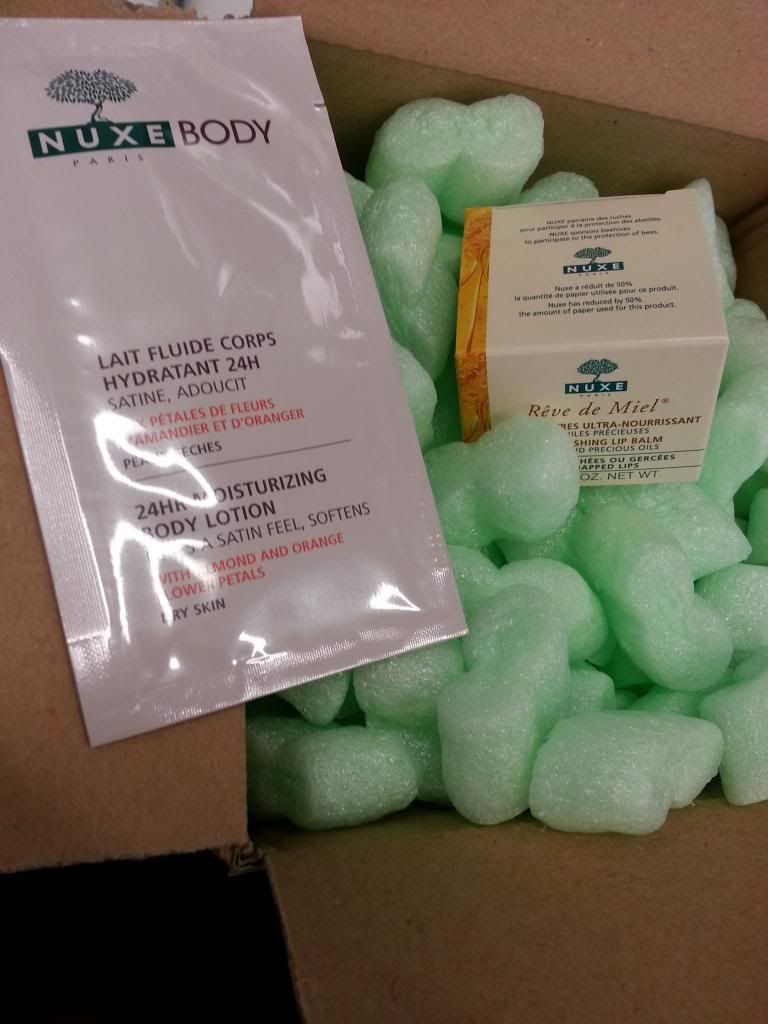 I was really happy with the service I received from feel unique - having never ordered from them before I didn't really know what to expect but was delighted to find my order was dispatched super-quick and arrived equally as fast! As a bit of an eco warrier I was slightly dismayed at the amount of packaging the product came in, but they chucked in a little sample which made me smile.
The lipbalm itself came in a tiny little box which I thought was a nice touch. I don't often invest in higher end items so I was pleased to find the jar, although small, lived up to my expectations in terms of packaging...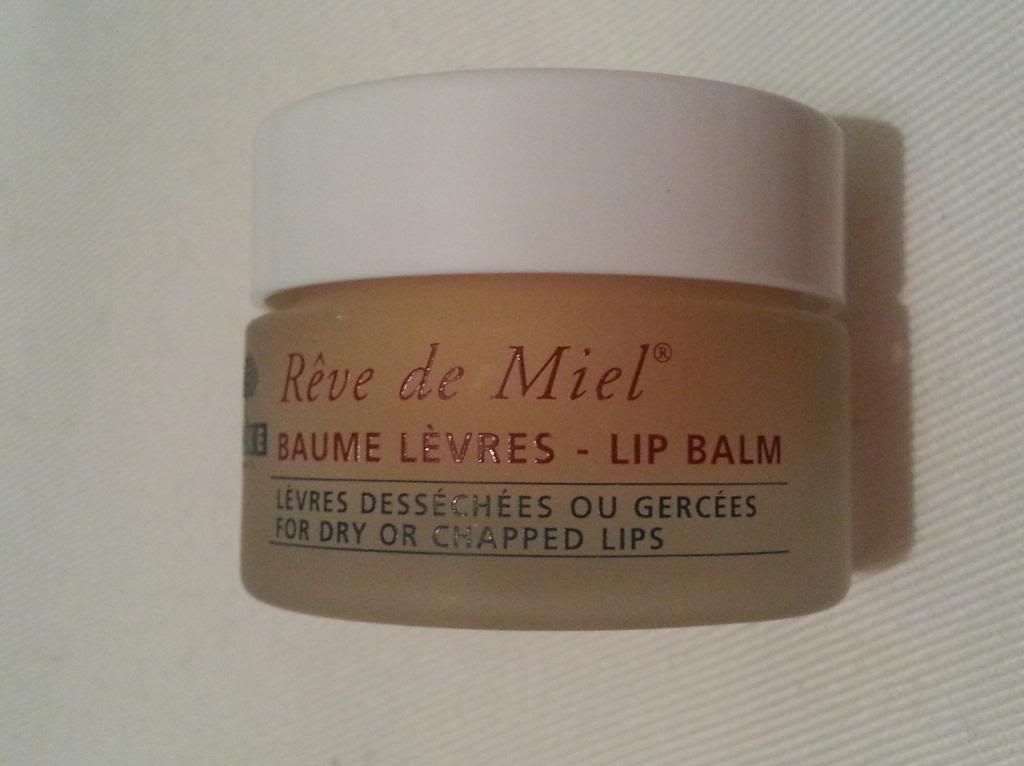 It comes in this decidedly simple, classic and just beautiful little glass jar - it feels quite heavy and substantial in your hand and I will be delighted to have this little beauty grace my bedside table in the winter months!
As for the product itself, I had read plenty of reviews prior to parting with my hard-earned cash and expected it to be a waxy, thick substance. The lip balm contains

Plant Oils, Shea Butter and Grapefruit Essence and you can tell as it is very thick and sticky and you don't need much product to cover your whole lips. I massage the balm into my lips a little and find this warms it up a little and makes it easier to apply.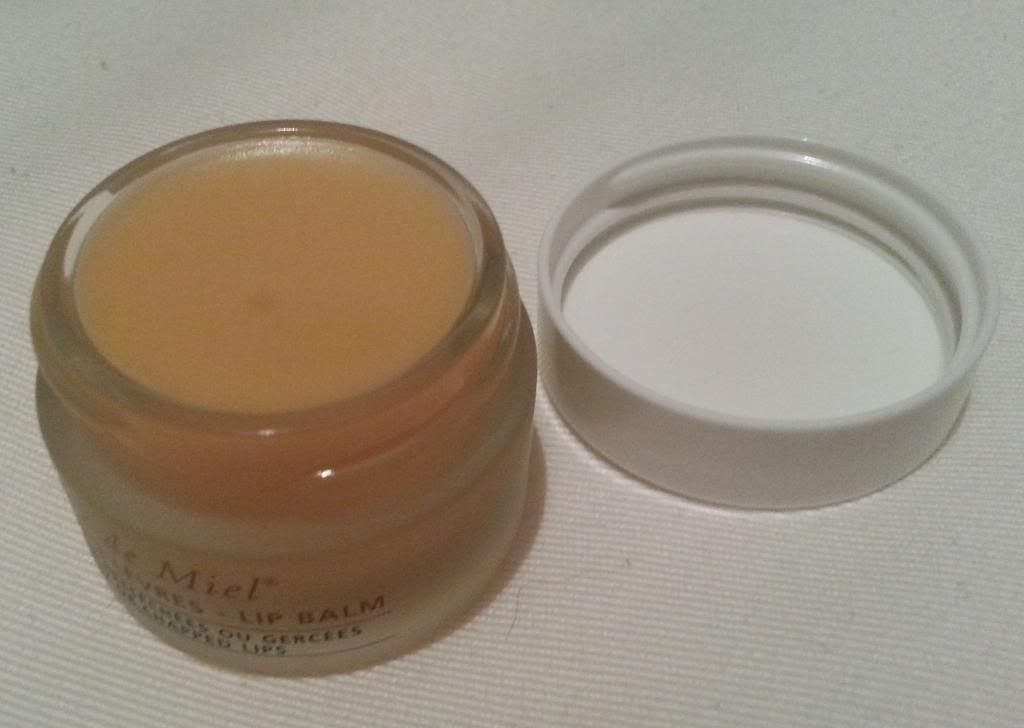 It's so thick that it forms almost a barrier over your lips & isn't easily licked off. I think I am a bit of a fidget when it comes to my lips (that sounds strange) - I am constantly chewing my lips, licking them etc and as I constantly drink water I find most lip balms need reapplying at least once an hour. Not this bad boy. When I apply it on a night before bed (which I now do as a ritual every night!) it still lingers on in the morning, and when applied during the day I reckon it takes a good 2-3 hours before I don't feel it on my lips anymore. But the really good thing about this product is that even when it's worn off, I don't feel like I have to reapply instantly. My lips are so soothed, moisturised and generally
happy
after wearing this lip balm that I only apply it 2-3 times a day, and once before bed. This is a substantial reduction for me, which I think demonstrates that this lip balm
is
a HG product and
really does WORK!
I find this a relief as it means I haven't wasted £9.50 on just another lip balm that does nothing for my chapped lips. But honestly, I really recommend you try it if you haven't already. If the price is putting you off, bear in mind that because of the consistency of this product and the reduced amount of applications you'll need, this apparently small jar will probably last you months and months and months! I can't really see myself having to repurchase until 4-5 months' time!
So overall it's actually very good value for money, especially in these harsh, vulnerable lip months. Now I've tried it, I can't imagine facing winter without it!
Have you tried the Nuxe lip balm yet? Are there any other brands you recommend for people with chapped lips this winter?