I took advantage of MUA's 50% off Facebook promotion recently - which you have probably heard about whether you ordered or not! It's now become a little infamous for the constantly crashing website and the strange way the brand interacted with its customers on Facebook. If you're a follower of Bee's Knees you'll know I am a fan of the MUA brand, but I have to say I was not impressed with the way the company dealt with the offer. I struggled to place my order as the site kept crashing - something you would have thought they would have prepared for given the same thing happening at the 35% off promotion a few months ago.
The worst part for me personally was the way the MUA representatives presented the situation on Facebook, as if it was the customer's fault that the site was down, and implying that the company was getting no commercial benefit from the offer. This seemed very unprofessional to me, as clearly if you are running a business everything you do is a commercial exercise, and patronising your customers in a hideously passive aggressive manner will not do you any favours. The whole experience has made me question whether I will purchase from MUA direct again, or just buy the brand from Superdrug, if at all, in future. Anyway, rant over. Here's a peep at what I bought!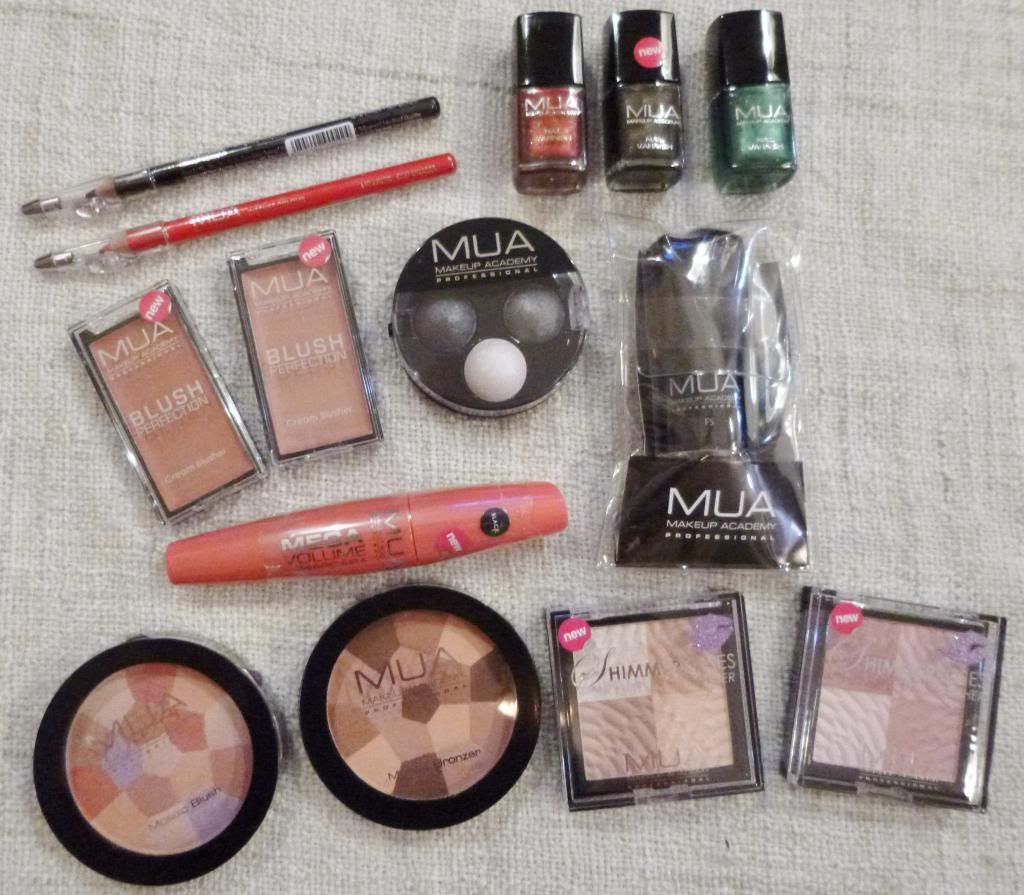 There was a £30 minimum spend before you could get the 50% off promotion, and I think I got quite a few nice bits and pieces!
Black Eyeliner, Red Eyeliner, Cream Blusher in Blossom, Cream Blusher in Yummy, Trio Eyeshadow in Smoke Screen, Mega Volume Mascara, Mosaic Blusher English Rose, Mosaic Bronzer Sunkissed Glow
Nail Varnishes in Shades Stormy Skies, 13 and 14, Kabuki Brush, Shimmer Kiss Bronzer, Shimmer Kiss Blusher
The grand total of my order was £15.25 including shipping which I think is very reasonable for the amount of make up I purchased! Watch this space for reviews as I'll be posting these soon.
Have you tried anything from MUA before?