My (very belated) January sales haul post will be up soon, and in it you will see my first ever Philosophy purchase; the Tinsel Town gift set. Since then I have received the Philosophy 2 Piece Foot Pampering Set*, available along with a whole load of other skincare goodies at QVC.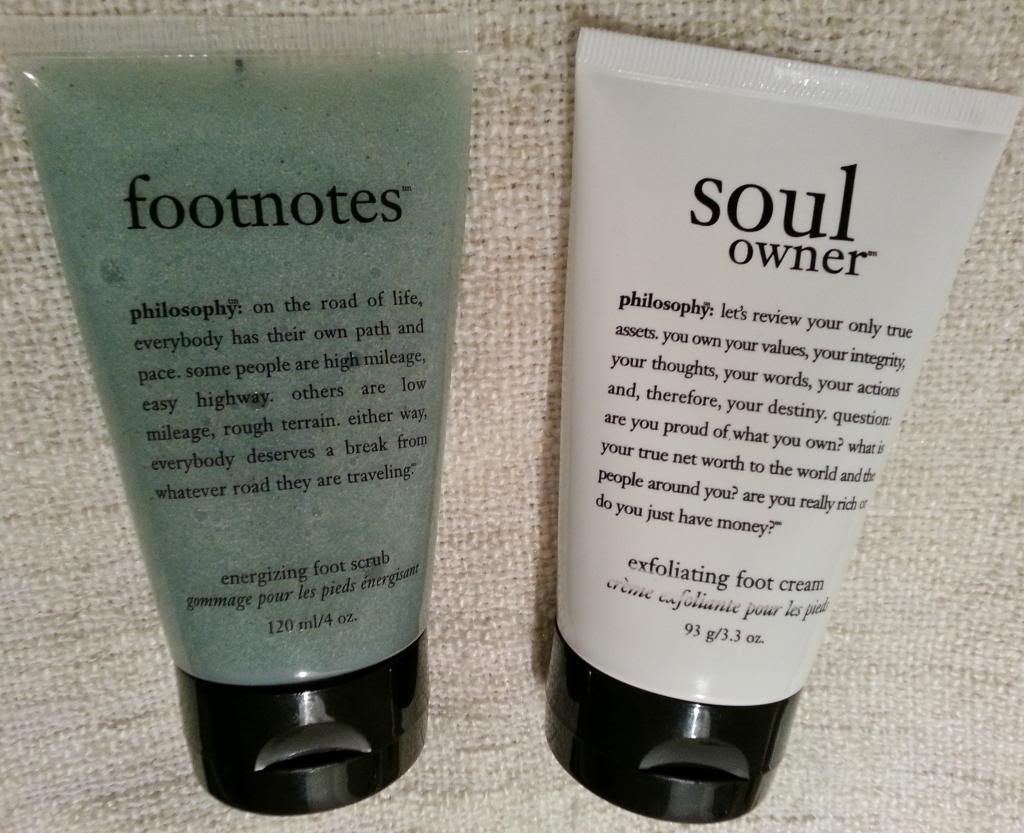 The set comprises the footnotes foot scrub, and the soul owner exfoliating foot cream. As a relative newbie to the Philosophy brand, I really like the packaging of these products - it reminds me of spa products. So simple and chic and I love the quirky quotes on the front!
The footnotes foot scrub is a mega-gritty, minty foot scrub that really does the job. I have to admit my feet have been neglected this winter - I'm sure I won't be the only one who hasn't found time to keep my tootsies in tip top condition! It's never much of a priority when you don't have to bare your feet in sandals and can keep them hidden in socks and tights! So you can imagine the condition my feet were in before I used this scrub.
I think you can see how gritty the scrub is here - it's much coarser than other foot scrubs I've used in the past which is great as it takes less effort to buff off the rough skin. I used this scrub whilst in the bath & the first thing I noticed was the incredible minty scent - it smells so delicious! I worked the scrub into the parts of my feet that have the hardest, roughest skin for a couple of minutes and then washed off.
The scrub doesn't feel too harsh but still effectively removes dead skin!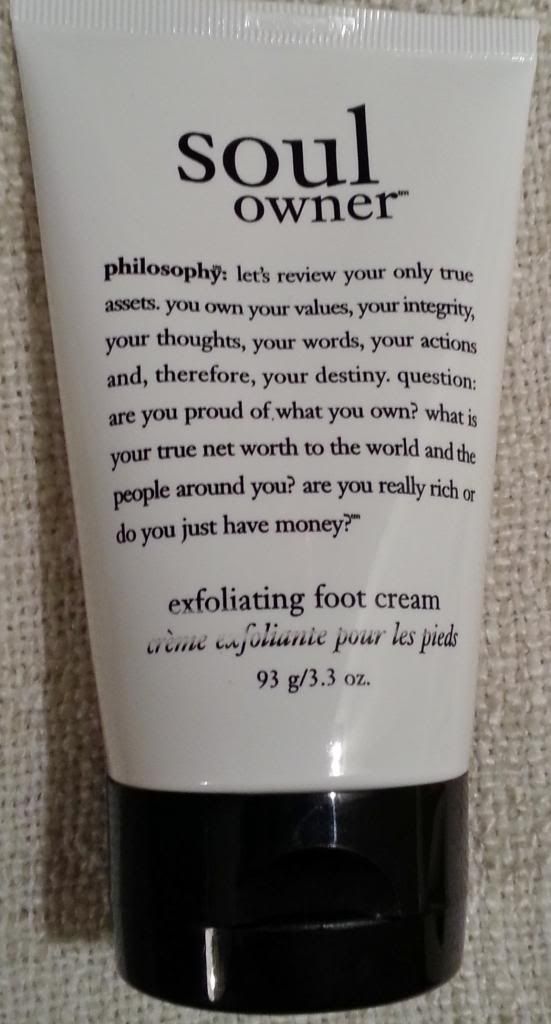 Once out of the bath with dry feet, I applied the soul owner cream. This product also smells of mint, which I love, and the consistency of the cream is very thick as you can see below!
Soul owner is much thicker than the other creams I've used in the past, which is great if you like to slather it on after a bath before popping on some socks to let it sink into your skin!
I found even when I was tucked up in bed with my bed socks on I could still smell the yummy minty scent of these products, and my feet felt very happy! The next day my tootsies were softer than they've probably ever been before - and that is no exaggeration. I have used various grater-style things on my feet before (you know the type of thing I'm talking about - the Ped Egg is a good example!) and I thought my feet felt smooth after that. But using these two together improves the overall condition of my feet, not just the rough parts.
Overall I am very impressed with these products and with Philosophy as a brand. I love how these tubes look in my bathroom, and I think this summer I will have the smoothest feet in London!
Have a little peek at the video below if you'd like to know a bit more about Philosophy.
Have you tried anything from Philosophy before? Are you a fan?