Evening everyone! Today I'm sharing one of my favourite Spring nail looks - it hasn't felt like Spring but I think regardless of how layered up you are in snuggly knits and woolly tights, your nails are the simplest way of brightening up an outfit without catching a chill!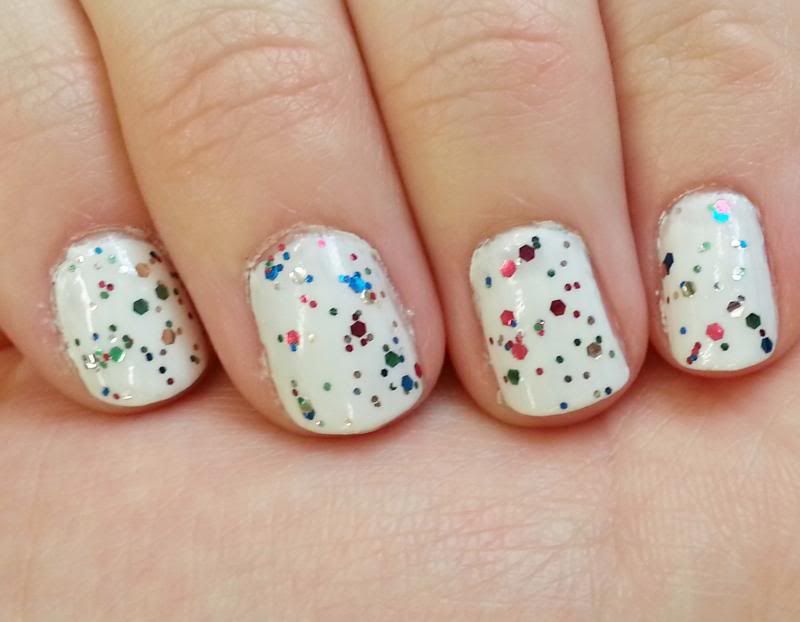 This look is a super simple and easy way to bring a bit of colourful sparkle to your nails! I painted my nails with Barry M Matt White and then applied Technic's Carnival sparsely over the top! I don't like white nail varnish on it's own but with a nice top coat it can look really unique.
Carnival is heralded by many beauty bloggers as a super-cheap (mine was £1.49 from Bodycare) dupe for OPI's Rainbow Connection. You can see that the 12ml pot is packed full of different sized multicoloured glitter and it's really easy to either apply sparsely (as I've done) or really go OTT and pack it on in lots of layer for a really full on glitter look!
You can pick up Carnival in some Bodycare stores and also from various eBay sellers.
What do you think of this look? Are you carrying the glitter nail trend over into Spring too?