Hi everyone! Today's post is a nail look featuring one of the Ciate nail caviars that I received in the Mini Mani Month last December (HERE is the blog post about it). It's not a look I would wear everyday, but it's quite unique for special occasions!
I used a gold Barry M polish I received as a gift with purchase from Superdrug at the end of last year, as I think it complements the colours of the caviar nicely.
This nail caviar is Bumble Bee - quite appropriate for Bee's Knees! I think this would look really nice with a black polish too, and to be perfectly honest I might prefer that combination because the finished look with gold nails wasn't quite what I had in my mind.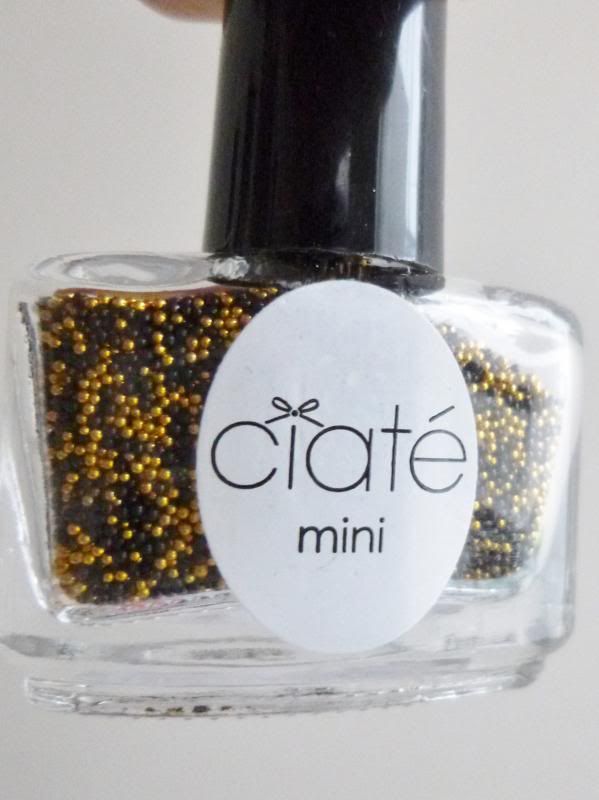 I found the caviar pearls relatively easy to use. I painted my nails in the usual way and then before applying a topcoat on my accent nail, whilst the polish was still wet I placed a small plate underneath my hands and shook out some of the pearls onto my nail ensuring you have an even spread and no gaps. I then pressed them down onto the nail using my finger, and left for a couple of minutes before covering with a good top coat. I received a mini funnel with the Mini Mani Month which is ideal for getting the excess pearls back into the bottle.
I found the pearls lasted really well on my nails, better than I'd expected! I had a few fall off but not many in the 4-5 days I wore them for. I received lots of compliments and questions about my nails when I wore this look, as it's quite unusual and not something you see everyday! Now I've tried this one I'm keen to try the other caviars I received in the Mini Mani Month.
You can buy a variety of Ciate nail caviar manicure sets from ASOS for £18.00 HERE.
What do you think? Have you tried any nail caviar before/