Hi guys. Today's fabulous nails post features one of MUA's Mystical Glitter nail polishes, and is a lovely bright blue.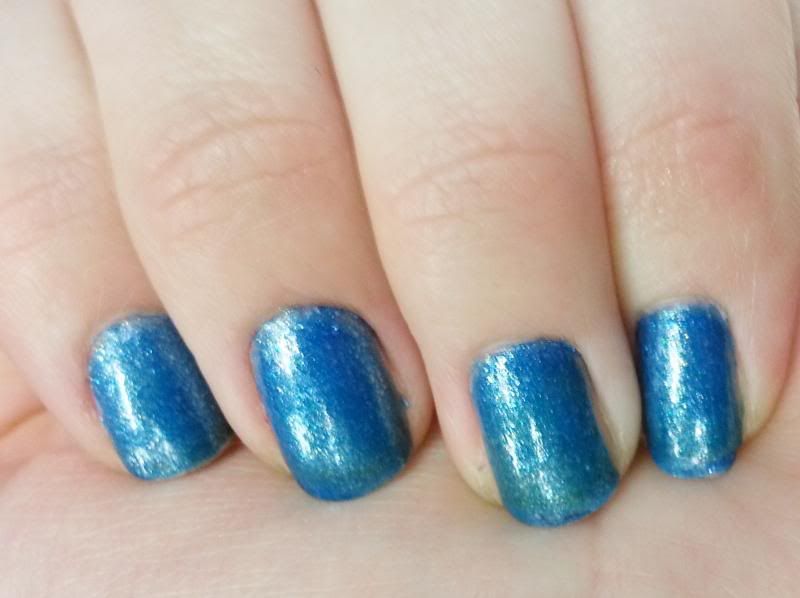 Blue nail polishes make up a pretty big part of my collection because blue is a really simple but beautiful colour which looks good on everyone regardless of skin tone. I think blue glitter is even more special, so I really love this combination!
I started out by painting my nails with two coats of this oldie (but goodie) Rimmel I <3 Lasting Finish in 198 Azure. I have owned this nail polish for as long as I can remember, most likely over 10 years and it's still going strong! It's such a bold bright blue it's always a winning colour.
I then painted my nails with two coats of this MUA Mystical Glitter in the shade Mermaid, which is something I purchased absolutely ages ago but didn't get around to wearing for a while (#bloggerproblems!) The glitter particles in this polish are very small and fine, which creates a more subtle look on the nail than other glitters I own and have tried. It's a perfect match for the Rimmel Azure and I think added some depth to the overall colour. A winning combination!
You can purchase the MUA Mystical Glitter online for £2.50 HERE, or pick it up instore at Superdrug. Rimmel I <3 Lasting Finish in Azure is available online HERE for £2.99 or pick it up at your local drugstore (cannot believe this polish is still on sale!).
What do you think of this look? Are glitter nails over now it's Spring or are you still loving them?