I signed up to Love Film about a year ago when I saw Groupon advertising £6 for a 3 month membership. I felt this offer was too good to turn down and enjoyed 3 months of membership before cancelling as the usual £9.99/month was just too much for something I wouldn't use as anything other than a novelty. However I received an email from Love Film a month or so ago, asking me to reactivate my account and offering me 3 months for the price of 1. It came at around the time I'd just got out of hospital and faced weeks of time away from work.. I signed up straight away. I thought it might be useful to provide an honest insight and opinion of the service for those who may be indecisive about joining.
With the £9.99/month package, I get 2 DVD discs at any time, and unlimited access to Love Film Instant, which is basically various TV shows and films available for online streaming. I want to say straight out that I don't rate the Love Film Instant service - it mainly features little-known films that have been out for years and that you'd never really 'want' to watch, or TV shows you've probably already seen on terrestrial channels. In fact my boyfriend and I once spent 40 minutes trying to find a film to stream before settling for something on 4OD instead. The only time I've really used Instant was to watch Secret Diary of a Call Girl (which is brilliant, by the way!) So I wouldn't recommend subscribing just for the Love Film Instant service.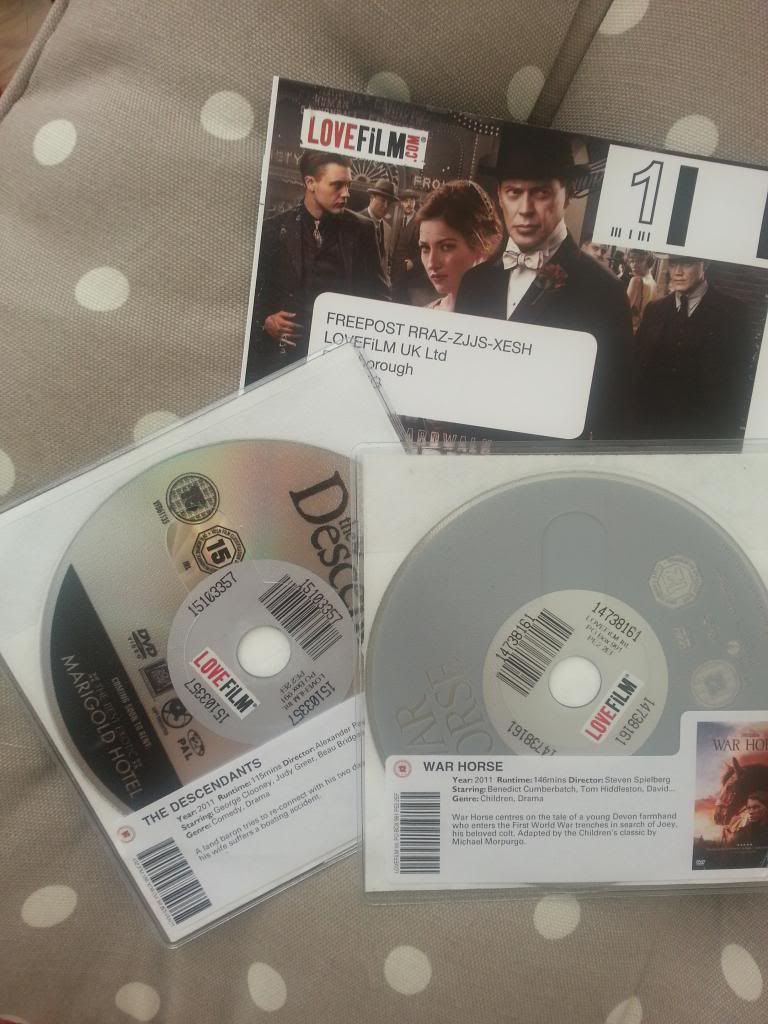 The discs on the other hand are good value. If you get a subscription using some form of offer, even better! I cancelled my membership before because I felt that I'd already seen 75% of the films I wanted to watch in the 3 months I was a member, and I couldn't see myself getting £10/month's value out of the remaining films. But at the moment I haven't been to the cinema in months, and in total in the past year have probably only been 3 times (I live in London, sometimes it's cheaper to see a West End musical than it is to go to the Odeon - and I've seen loads of musicals!) So at the moment there are quite a lot of films available on disc through Love Film from the past year or two that I haven't seen. Prime example - the two discs I received most recently (at the time of writing) were The Descendants and War Horse, both recent releases! The first discs I received were We Need to Talk About Kevin and Water for Elephants, again quite recent. Love Film sends you films according to a list you choose and rate according to priority, so you do need to spend some time once you've joined picking films you'd like to rent - but this shouldn't take more than between 30mins to 1 hour to sort out.
Once you've watched one disc you return it in the prepaid envelope and Love Film send you out another upon receipt of the disc - the turnaround time for films is actually very impressive and a big plus in my opinion. I posted out 2 discs in one envelope on a Sunday and on Tuesday evening had an email saying they'd posted out my next discs! I received them on Wednesday - this is a very positive point as I want to see as many films as I can in my 3 months so turning them around quickly ensures that this will happen!
I am enjoying my Love Film membership now I have it, but I am planning on cancelling again once the 3 months is up. Generally I only have time to watch films in winter, and obviously had a great deal more time recently when I was off work. And at £10/month you need to see a fair few films to make the membership work for you - but it can work for you, if you get a good offer when you join and make the most of your subscription.
So overall I would recommend the Love Film disc subscription if you have the time, money and there are quite a few films you're keen to watch that are recent releases.
Are you a Love Film member? What do you make of their service?